Today, Mr. Pickles returns to discuss how to meet the minimum spend at no cost to you by using the US Mint and following their guidelines for a basic purchase. You can follow Mr. Pickles on Twitter at @TheMrPickles.
The Challenge
I have never flown on American Airlines even though I have one of those old frequent flyer numbers from them that starts with a letter followed followed by 6 numbers. I joined in April of 1985 when I had to fly a lot for work. I was a regular flyer of PSA Airlines, Eastern Airlines and United Airlines and I thought what the heck why not sign up for all of them, they might just start to charge to join in the future.
Fast forward to 2006 and I received letter with a new gold American Airlines luggage tags welcoming me as a 1 Million Mile Lifetime Gold member of American Airlines. I thought I had won a contest. I was a real frequent flyer idiot- I had no idea why I had been bestowed this honor. After searching around the internet I came across Flyertalk and discovered all of the ins and outs of the American Airlines lifetime program. Without my knowledge, 12 years of Citibank credit card usage had pushed me past the 1 million mile mark and since American Airlines was the only airline that allows ALL miles to count towards lifetime status this is what had happened. My office staff had using my credit card to pay for office supplies, business trips, etc and had by this time amassed over 1.2 million miles in my American AAdvantage account. Realizing this lucrative proposition, I had a new challenge in life: Figure out the quickest way to get to 2 million miles, which would get me Lifetime Platinum status.
Creme de la creme: Buying Money
What I came across and will share in this post will help you meet minimum spending requirement, such as the $2,500 spend requirement to complete the British Airways 100K mile Bonus, or the $30k spend requirement to get the annual companion certificate. If buying coins doesn't interest you, on Monday I discussed how you can use BigCrumbs to earn cash back on purchasing American Express Gift Cards and then use those gift cards for other purchases, which is another quick way to meet credit card spend requirements. If you have a little more time, say six weeks, you can consider buying coins from the US Mint. This process was outlined in numerous online online forums and in the Wall Street Journal article in December of 2009.
Current US Mint Program
The US Mint is under a Congressional mandate to get into circulation these $1 coins until 2016. The $1 coins come in Presidential variety and in the Native American variety. After the WSJ article, word spread quickly that the credit card companies were cracking down and not allowing these purchases or if they were, that they were charging cash advance fees to coin buyers. However, in reality only a few credit card issuers were a problem, one being the US Bank FlexPerks card. Readers can comment on other cards that they have had experiences where they do not work. There is an excellent primer for ordering coins with an FAQ on FlyerTalk.
In fact, the only real change was that the US Mint issued a warning on its website: "There is a 4-box $1 coin limit for every 10-day period on any and all $1 coin orders. Beyond that your credit card will not be authorized." This is something that I can work with. The coins come prerolled in $25 rolls, 10 to a box. Each box costs $250 so 4 boxes works out to $1000/per order/per 10 days. To simply meet the $2,500 spend requirement on my BA card, all I needed to do was order 10 boxes total.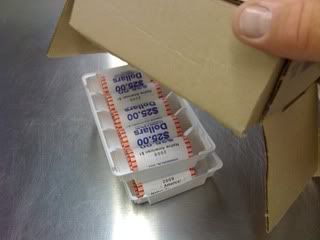 The nice thing about this is that the US Mint offers FREE overnight shipping on orders over $500. Simply set up an account on the US Mint website, register your shipping address where you can receive the coins and then place your first order. I would recommend placing 3 orders to meet your $2,500 minimum spend requirement:
4 boxes of $250.00 on day 1 for a total of $1,000
3 boxes of $250.00 on day 11 for a total of $750
3 boxes of $750.00 on day 22 for a total of $750

Word of Caution
When ordering these coins you must keep in mind that you cannot order more than $1,000 every ten days. When purchasing you agree to not deposit them immediately in a bank, but that you will circulate the coins. The interpretation of immediately is up to you. I will not discuss the ethics of this, but you will hear many differing experiences about depositing them at the bank if you read the master Flyertalk thread.
How to get rid of the coins
If you choose to follow the spirit of the US Mint's rules on putting the coins into circulation here are a few tips on spending them:
Pay property taxes or DMV fees
Use at your local Farmer's Market
All Federal buildings have vending machines that accept $1 coins
Use at parking meters
Pay mortgage or rent
Pay college tuition
Pay your household help, gardner or housekeeper
Use anywhere that will not take a credit card
Buy Money Orders at Walmart ($1000/cost$0.60)
Buy Money Orders at the US Post Office
Give your kids an allowance bonus
Use for mass transit
Back in the old days I would order $24,750 of coins several times a day, those days are gone. Boxes would show up on a pallet.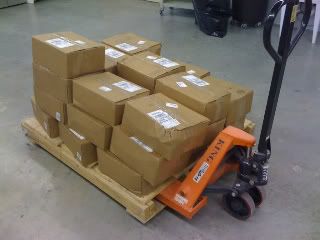 Back in those days, I had the following rules that allowed me to deposit them without rocking the boat:
Make arrangements in advance to verify that your bank will accept the coins without charging you a fee
Don't lie to the bank if they ask you why the have all of these coins, know your answer in advance
Make sure they will not require you to unroll the coins (more likely for a miss count and loss of $)
If the bank says no, be gracious and just go to another branch or bank
Don't show up with coins just before closing, preferably bring them in the morning
Never bring them on a weekend
Open all of the coin boxes and throwaway the trash at your own home, this way the teller does not break a fingernail
I deposit at a bank that I consider to be disposable, where if they close my account if is not intermingled with my primary bank
Bring the bank a box of doughnuts, you want them to be happy!
In Summary
You need to set a goal. My goal was to reach another mile level for airline status, but you can set a much easier goal of $2,500 for a minimum spend requirement on the Chase British Airways Visa 100k Mile credit card without any out of pocket expense. I have more tips on maximizing this "promotion", so follow my site for future posts on the topic.
About Me
Joshua Pickles, aka "mrpickles", has been writing on the Flyertalk.com forum since 2009 and more recently on the MilePoint.com forum telling stories of racking huge amounts of frequent flyer miles in a short period of time. Primarily focusing on American Airlines AAdvantage miles mrpickles found notoriety in December 2009 when The Wall Street Journal wrote a front page article which featured a story that hinted about how mrpickles earned American Airlines lifetime Platinum status without ever stepping on an American Airlines flight. More recently he was featured as one of the Legends of Flyertalk at the Chicago Seminar 2010, a gathering of over 500 frequent flyers learning the tricks of the trade. mrpickles currently holds over 5.8 million miles and points over several programs and this year has top tier status with United, Air France, Continental, and American Airlines as well as Starwood Hotels and Hilton Hotels. You can follow Mr. Pickles on Twitter at @TheMrPickles.
Share on Facebook
Tweet This Post